Unser Online-Projekt ist alles über die verschiedenen Kampfsportarten, die so unterschiedlich in Stil und Geschichte sind und haben gleichzeitig oft viele Gemeinsamkeiten. Nun widmen wir die Zeit um zu erklären was ist Budokan Kampfsport.
Wenn Du schon immer neugierig warst, was sich hinter dem Namen Budokan verbirgt und was diese Kampfkunst so besonders macht, dann bist du hier genau richtig.
Dies wird ein kurzes Eintauchen in das Thema um die Basisantworten für sich zu erhalten.
Was ist Budokan?
Das wichtigste zuerst.
Falls Du dich mit Budokan zum ersten Mal bekannt machst, dann solltest Du folgendes wissen. Wenn es um Budokan Begriffe geht, so unterscheidet man:
Nippon Budokan, was auch oft zu einfach Budokan abgekürzt wird;
Budokan Karate oder Budokan Kampfsport, was auch oft einfach Budokan genannt wird.
Budokan Bedeutung und Budokan übersetzung
Budokan auf Japanisch heißt 武道館, das wörtlich auf Deutsch wie "Kampfkunst Villa" oder "Kampfkunst Halle" übersetzt werden kann.
Was ist Nippon Budokan?
Nippon Budokan ist eine berühmte Veranstaltungshalle in Tokio, Japan, die für ihre bedeutenden Sportveranstaltungen und Konzerte bekannt ist. Die Halle wurde 1964 eröffnet und hat eine Kapazität von bis zu 14 000 Zuschauern.
Nippon Budokan auf Japanisch heißt 日本武道館, was auf Deutsch wörtlich übersetzt werden kann wie "Die Halle der japanischen Kampfkünsten".
Obwohl Nippon Budokan Sporthalle war zunächst als ein Platz für Kampfkunstwettbewerbe ausgerichtet, ist die Arena auch zu einer der weltweit herausragendsten Veranstaltungsorte für Konzerte geworden.
Hier im Nippon Budokan hatte Judo 1964 sein olympisches Debüt. Und nicht nur Judo. Auf den Olympischen Sommerspielen 2020 passierte dasselbe mit Karate.
Judo made its debut as an Olympic sport in the 1964 games at the Nippon Budokan.
Nippon Budokan in Tokio, Japan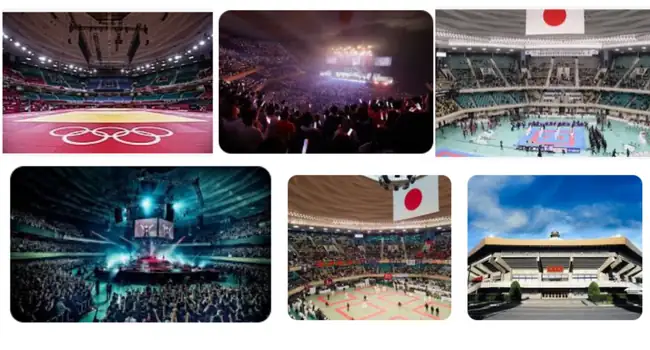 Was ist Budokan Kampfsport?
Doch in unserem Fall hier interessiert uns Budokan als Kampfsport. Also, was ist Budokan Kampfsport?
Spricht man von der Budokan Kampfsport, meinen wir Budokan Karate, was wiederum den Stil des Karate darstellt, der bei der WKF (World Karate Federation) anerkannt ist.
Karate Budokan ist eine Kampfkunstschule, die 1966 in Malaysia von Chew Choo Soot gegründet wurde, der sich schon in jungen Jahren für verschiedene Kampfsportarten wie Judo, Jiu-Jitsu, Wrestling und Karate-Do interessierte.
Nach anderer Version es gibt keine bestimmte Person, die hinter der Gründung von Budokan Kampfsportart steht, sondern ist und von mehreren Kampfsport-Meistern entwickelt wurde.
Budokan Karate ist eine Mischung aus verschiedenen Karate-Stilen und enthält Elemente von Shotokan, Goju-Ryu und anderen Stilen. Heute wird Budokan Karate in vielen Ländern praktiziert.
Explosives Karate: Budokan Wiedereröffnungsveranstaltungen in Tokio 2012